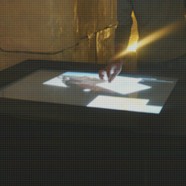 A technology transfer project realized for the international exhibition From Petra to Shawbak: archeology of a frontier.
A multi-touch tabletop was realized for this exhibition that presents the results of the latest international archeology investigations and of the research conducted by the archaeological mission of the University of Florence in these past twenty years in Jordan at the sites of Petra and Shawbak, one of the most important historical areas in the world.
Developed by Nicola Torpei, Nicola Martorana, Riccardo Canalicchio (interaction design, hardware and software development); Lea Landucci, Thomas Alisi, Andrea Ferracani (project and contents management); Valentina Bologna, Simone Fiorucci e Filippo Principi (<em>3D video contents</em>), Matteo Bencini (graphics).