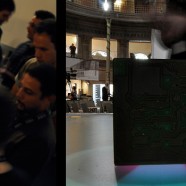 harmonize urban sounds of the future through collaborative manipulation of sound objects inspired by cities of the present
Presented at Frontiers of Interaction V (Rome, June 2009).
TANGerINE cities let users choose and elaborate sounds characterizing today's cities.
TANGerINE cube collects sound fragments of the present and reassemble them in order to create a harmonic sounds for the future.
TANGerINE cities is a mean of collective sound creation: a glimpse into the sound world of the future cities.
TANGerINE cities imagines a future where technological development will have aided the reduction of metropolitan acoustic pollution, as transforming all noises into harmonic soundscape. The collaborative nature of TANGerINE table let users compare face-to-face their ideas as they forecast how noises of future cities will sound like.
TANGerINE cities can use noises uploaded on the web by users who have recorded noises of their own sound worlds. Therefore TANGerINE platform provides a real tangible location within the virtual Social Networks.