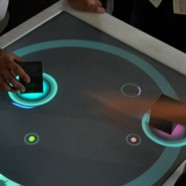 TANGerINE acronyms stands for TANGible Interactive Natural Environment
This project is an ongoing research on TUIs (tangible user interfaces) combining previous experiences with natural vision-based gestural interaction on augmented surfaces and tabletops with the introduction of smart wireless objects and sensor fusion techniques.
Unlike passive recognized objects, common in mixed and augmented reality approaches, smart objects provide continuous data about their status through the embedded wireless sensors, while an external computer vision module tracks their position and orientation in space. Merging sensing data, the system is able to detect a richer language of gestures and manipulations both on the tabletop and in its surroundings, enabling for a more expressive interaction language across different scenarios.